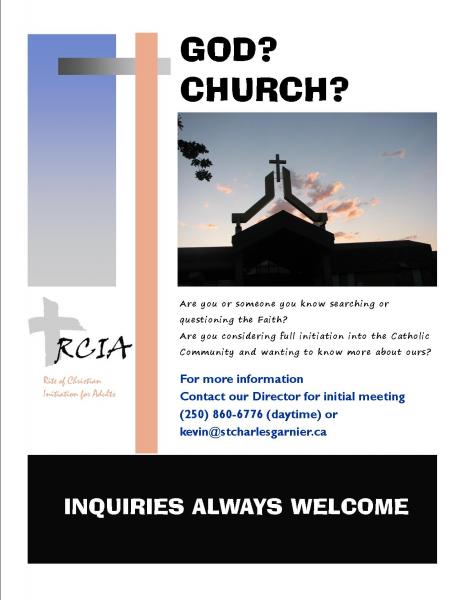 We appreciate everyone's experience and past and are very particular about meeting people where they are at now. Our team is pleased to guide anyone interested in exploring what Life as a Catholic is all about and what the church teaches on major aspects of Faith. Although, our process generally follows what looks like a school year, we treat each person differently in terms of their needs and desire to go forward or not. Therefore, start dates may vary and there is not always a clear or formal ending to this process, it will unfold as you journey with us!
This process is modeled on how Adults were prepared and initiated in the Early Church during the growth of Christianity. Inquiries are welcome year round. Please contact our Director of Formation for initial consultation: TBA
You may fill out the attached Inquiry Form or drop into our Parish Office anytime during business hours (1pm - 4pm Monday & 9am - 4pm Tuesday to Friday) to fill out an Inquiry Form. Thank you.