FIRST HOLY COMMUNION - First Eucharist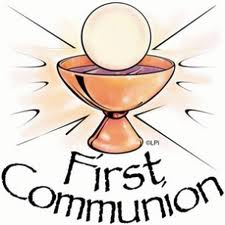 Preparation for all Sacraments is done through the Parish. Sacramental Preparation, although connected to our Catechism Program is not one and the same. Students must be enrolled in Catechism or a Catholic School and have met the minimum requirements of being in Grade 2 to opt for First Reconciliation and First Eucharist or being in Grade 7 (having completed Gr. 1-6 or equivalent) to opt for Confirmation. Additional sessions, gatherings, celebrations, etc. are required by all those who are Home schooled or those attending either Public or Catholic Schools and their Parent(s)/Caregiver(s).
Please contact Fr. Bart for further information. 778-478-6288
There will be a Parent's Meeting for First Reconciliation/Communion on Tuesday, September 25, 2018 at 6:00 p.m. in the parish hall. This is for all parents and children - including the St. Joseph Catholic School students.
Children not attending St. Joseph Catholic School will meet every Tuesday beginning on October 2nd from 6:00 to 7:00 p.m.